Preschool Praise'ntations Volume 3 (Green)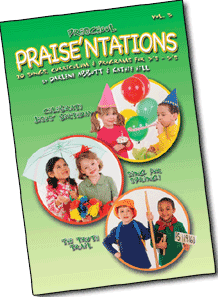 Includes Digital Products
Includes Christmas & Easter
Celebrate Spring, Christmas & a Praise Parade in one resource!
"Celebrate Jesus' Birthday" is a contemporary setting for a Christmas celebration while "Sing for Spring!" celebrates the newness of the season in Spring Park. With two songs that emphasize Easter "Sing for Spring!" can be presented before or after Easter while "The Truth Trail" can be presented anytime you want to deal with the truth of God's Word. "The Truth Trail" includes the classics "The B-I-B-L-E" and "Jesus Loves Me" with fresh tracks that will appeal to kids and teacher's alike.
The Teacher's Book contains 20 "praise'ntation" songs & 12 classroom management songs from the 51 song CD Songs & Chants for Antsy Pants, 20 lesson plans (See Vol.3 Singing Circle Demo Video) 40 teaching activities, plus production helps & praise'ntation scripts. Use media links below to learn more.
This is a very usable and relevant preschool product. Take a look and listen!
Pamela Vanderwalker — Johnson Ferry Baptist, Marietta, GA
We've been using Preschool Praise'ntations for several years for our Sunday night preschool choir program. The kids learn the hand motions quick and our choir teachers love how easy the songs are to teach to 80 preschoolers. We're always pleased with the curriculum from Kathie Hill Music.
Angela Spencer — Thompson Station Church. Thompson Station, TN
We love using the music from Preschool Praise'ntations for our 4-year-old and kindergarten classes. It is easy to teach and easy to learn!
Michelle Gibson — Hebron Baptist Church, Dacula, GA
Titles Include
Celebrate Jesus' Birthday
Celebrate Jesus' Birthday
The Counting Song
In Bethlehem
Joy, Joy, Joy to the World
Peace on Earth Tonight
The Stable Song
Dear Jesus, I'm Tellin'!
Signs of Spring!
I Spy
Thank Him for Everything
The Mud Puddle Song
Happy, Happy Easter
The Joy of Easter Day
I Will Sing Praise
Sing for Spring!
The Truth Trail
The Truth Trail
The B-I-B-L-E
The Bible Says it's So
Jesus Loves Me
Doers of the Word
The Truth Trail (Reprise)
LISTEN TO SAMPLE SONGS
A Word
from the
Publisher
Example
Lesson Plan
Praise'senting
Preschool
Praise'ntations
Sample Table
Time Activity
View
Sample
Photos
Watch
Video