Songs & Chants for Antsy Pants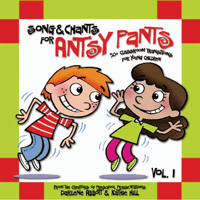 51 Classroom Transition Songs for Young Kids
The 43 transition songs from Vol. 1, 2, 3, & 4 of Preschool Praise'ntations and 8 new songs are meant to be sung a capella in the classroom but are showcased with kid-friendly tracks to make them fun to hear and easy to learn.
All 51 songs are available in TWO formats; a manufactured jewel cased CD with a lyric insert (shipping fees apply) or an MP3 digital download upon receipt of your payment. The download allows you to purchase licenses to make copies for all your preschool choir leaders, children's workers or anyone who needs to provide direction to kid in fun, "non-verbal" commands. With your digital purchase comes a free downloadable face plate, a front & back lyric sheet and license to make the copies equal your paid CD license. (Songs are meant to be sung a capella, so no split tracks are available.)
Kathie's Note: So many people have requested a CD of our Preschool Praise'ntations transition songs that we decided to comply…and more. You'll love the accompaniments to the songs you know and be excited to use the 8 new songs. It's Perfect for faith-based or secular use in camps, schools, VBS, choir…anywhere you need to say "Hey, do this…." in song.
LISTEN TO A SAMPLE
SONGS & CHANTS (# of songs per category):
Say "Hello" - 6
Sit Down - 4
Answer Riddles - 2
Say Their Names - 4
Stand Up 6
Get the Wiggles Out - 3
Gather Together - 5
Pass Things Out - 4
Learn the Bible - 3
Listen - 3
Collect Things - 6
Say Goodbye - 5