★ Angels Aware!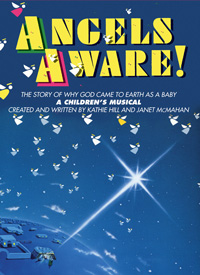 Includes Digital Products
Christmas
After nearly 25 years, still a favorite with children's choirs everywhere!

Why did God come to earth at Christmas as a baby? Join Micheal, the arch angel, Sara, Cherry, and Harold as they explain to the heavenly host what will happen that first Christmas and why. You'll love the biblical content, humor and diversity of music, including the classic Ten Commandments song "The Perfect Ten."
Speaking parts:
6 with 12 pantomime parts
Costumes:
simple angel costumes (pattern included in Director's Edition)
Performance Time:
Approximately 45 minutes
Lively, creative, fun and tells the full story. Allows several options for number of children involved and the music is easy for children to learn and remember.
In 1988, my church performed this musical, and I played the role of Isaiah. It was my first stage performance, and it's a musical I simply adore it to this day.
The songs are catchy, yet meaningful. I used "The Perfect Ten" to teach 2nd graders the Ten Commandments. Would recommend this program for any church or Christian school.

Kathie's Note: This musical has been in continuous print since 1984. People around the world present it then reprise it, share it with friends who present it, or give CDs to their adult children or grandchildren who were once in it. Would that every musical could be an Angels Aware!
Titles include:
Michael's Called a Meeting
"I" Trouble
Sing to the Lord
"Jiswannano"
The Perfect Ten
What Love
If it Were Up to Me
Close to Him
Glory to God
Angels Aware!
Production
Ideas
Song
Samples