★ Fish Tales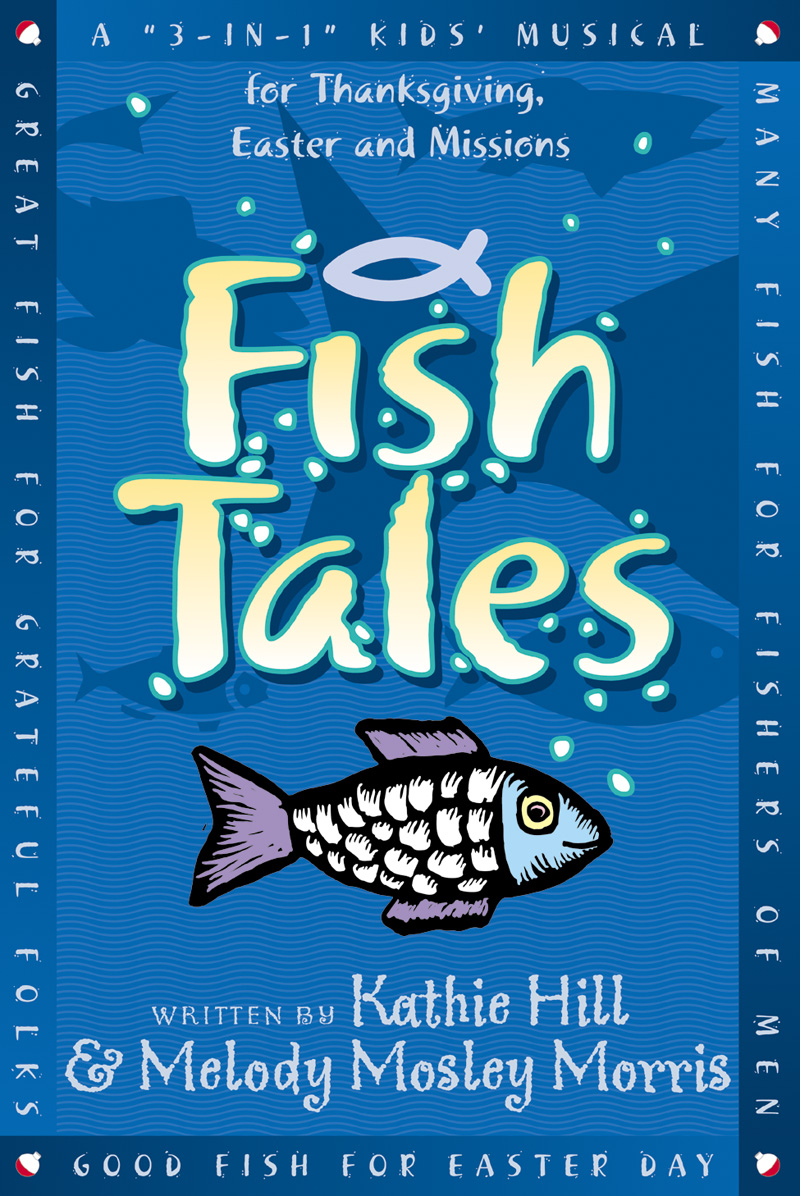 Includes Digital Products
2001 Dove Award Nominee
Best Children's/Youth Musical
Thanksgiving/Easter/Year-Round
A 3-in-1 musical for Thanksgiving, Easter, and Missions
Fish Tales are stories that are "supernatural, completely factual and actually occurred." Why? Because these Fish Tales come from God's Word!
At the Fish Tales Fishing Tournament kids will join their host, Mr. Gill for a great time of "fishin' 'n listenin'" to Bible stories...about fish. In the Fish Tale, "Great Fish for Grateful Folks" kids will learn what the fish symbol identified early believers, then how Jesus fed five thousand people a supernatural supper of real fish and bread. A special emphasis of this tale is the thanksgiving that Jesus expressed to His heavenly Father and his encouragement for us to be thankful...even for fish sandwiches!
In "Good Fish for Easter Day" kids find out what was so "good" about Good Friday and the relationship of the cross to the resurrection. And the story doesn't stop there, but continues to Easter evening when Jesus ate fish to prove he was alive. Children will really "get their hooks" into the story of the Resurrection with this exciting Fish Tale and be challenged to respond to the gospel themselves and come to Jesus.
In the story of Jesus' call to the fishermen, "Many Fish for Fishers of Men" kids learn about the Great Commision and how God multiplies our efforts when we share the gospel.
Perform one of the three Fish Tales for a 15-20 minute mini-musical, combine two for a 30-minute program or present all three for a full-length musical.
So, why not grab a rod and a reel, meet us at the lake to catch the message in our Fish Tales?
Speaking parts:
4 children, 1 adult
Set:
fishing contest on a dock, lake or river
Costumes:
fishing clothes or Fish Tales T-shirts
Performance Time:
Approximately 15 - 48 minutes
I love that there are pull-out songs for Sunday morning services. My 1st-3rd graders prepared two "tales" from the book as each section can stand alone. And I've done the full musical with 1st-6th graders as there is enough mature content and routines to keep the older students challenged. THIS IS ONE OF MY FAVORITES!
Lori Smith — Emmanuel Faith Community Church, Escondido, CA
My Kids Choir loved performing Fish Tales. Because the stories can be performed in short time periods, we incorporated them into our regular Sunday Worship services. So many parents attended that normally don't attend church. These Fish Tales were a great ministry tool!
Melissa Benson — Westland Baptist Church, Kay, TX
Our pastor pushed for this one and I am glad he did! We live in the Pacific Northwest where fishing is plentiful! We easily transferred our performance from indoors to an outdoor stage for our city's National Day of Prayer. Without Kathie sharing the amazing gifts that God has given her we might be up a creek!
Cheryl Rolf — Wenatchee, WA
Kathie's Note: This is the perfect musical for small choirs, but loved by large choirs, too. Anyone can perform "Fish Tales" and if you don't have time to learn the full musical, just do oneor two of the stories. You can even perform it outside! My favorite songs are "Fish Sandwiches", "The Sign of Christ" and "A Good Day on a Bad Day" (especially with the "plate" choreography from the video.)
Titles Include:
Fish Tales
The Sign of Christ
Fish Sandwiches
God is Great
God is Good, A Good Day on a Bad Day
He's Not Here! with Lord, I Lift Your Name on High
Flesh and Bones
Come to Jesus with The Savior is Waiting
Love is the Bait
Cast the Nets
Follow Me Medley (I Have Decided, Where He Leads Me and He Leadeth Me)
Fish Tales Reprise
Production
Ideas
Song
Samples
Clipart
Files
Watch
Video
T Shirts