★ Hans Bronson's Gold Medal Mission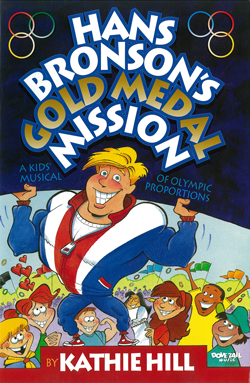 Includes Digital Products
Share the gospel with Olympic Fever!
From country to rap, Kathie goes the distance in musical styles while presenting the plan of salvation in ways kids of all ages can comprehend. As a guest speaker in Anytown, USA, Olympic contender Hans Bronson experiences a life-changing event with the help of three student reporters. Even though Hans is brawny and strong, he soon realizes that physical fitness is no substitute for the spiritual fitness a growing relationship with Jesus Christ can bring.
Ages:
1st grade and up with several songs easy enough for preschoolers
Speaking parts:
minimum of 9 with optional adult parts
Set:
Olympic rally, indoors or outdoors
Costumes:
Street clothes or Hans Bronson's T Shirts and character costumes
What a wonderful success we had using "Hans Bronson's Gold Medal Mission" for our Music Camp. We had 45 children participate, and our church says there has never been a musical like it with such a clear presentation of the Gospel. I had used it In 1996 when the Olympics were in Atlanta. The message and the music are timeless!
Pat Young — FBC Blue Ridge, GA
When our school lost their choir director I got the blessing of taking the helm. My sister & I have been waiting for an Olympic year to revive one of our favorite musicals. Thanks for the special memories & opportunity to share "Hans" with another generation!
Sarah Cornell — Heritage Christian, Bakersfield, CA
This is a fantastic musical your kids will enjoy especially during a Winter or Summer Olympic year. I've used it for spring choir and music camps as it's easy and the message is so strong. My choir thought it was awesome!
Lori Smith — Emmanuel Faith Community Church, Escondido, CA
Kathie's Note: This may be the most evangelical of all my musicals as it uses the colors in the Olympic symbol to share the plan of salvation with Hans, the kids and the audience. Many a minister of worship has endeared himself to the kid's choir by portraying Hans, even if their muscles were pure padding! This one is a classic.
Titles Include:
Olympic Fever
Hans Bronson
The Inside Story
The Colors of His Love
I Is Me
Pass over Me
The Blueness Is Newness
Basic 4
Better than Gold
The Inside Story—Reprise
Song
Samples
Clipart
Files
Watch
Video
T-shirts
Available