★ Holy Moses!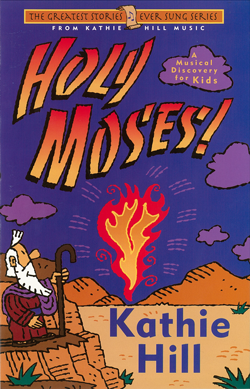 Includes Digital Products
2005 Dove Award Nominee
Best Children's/Youth Musical
Best Children's Recording
A Musical Discovery for Kids
Join the cast of "Trading Places" at a Hebrew home and an Egyptian palace where Page Turner, Hildi Vine, Frank Incense and Ty Kwando assist kids in discovering the story of Moses. But there's no redesigning history in this musical as kids learn about the plagues, the Passover, the Exodus and the Ten Commandments through clever lyrics and memorable music. As in his own life, the emphasis of this musical isn't on Moses, but the God of Moses — the Great I AM!
Speaking Parts:
4 child characters, 4 child or adult characters, 5-8 additional speakers
Set:
present day Egypt on location with "Trading Places"
Costumes:
Warm-weather street clothes or Holy Moses! T shirts; "Trading Places" team member shirts and cast outfits
Drama:
SIMPLE DIALOGUE, SIMPLE STAGE ACTION
Video options:
Instructional/Movement Video includes footage for Egyptian Brick, Passover Pita and Almighty Manna Mix commercials
Performance Time:
45 minutes
I have done at least 7 Kathie Hill musicals and each has been a wonderful experience! This year we did Holy Moses! With only have 22 kids in our children's choirs ages 4-11 we used some staff members and parents for the "adult" parts - but the kids knew all the words to each song and the choreography! What a joy to see kids learn the Bible in such a fun way. They can say the Ten Commandments and Ten Plagues thanks to Kathie's witty songs! I highly recommend using this for whatever size choir you have.
Elaine Fowler Owens — Simpsonville UMC, Simpsonville, SC
I teach elementary music and chorus at a Christian school with 1000 students. Each spring we present a musical. Six years ago we performed Holy Moses! Thank you, Kathie Hill for musicals that are Biblically sound, musically interesting, and dramatically clever!
Teresa Flack — Wesleyan Christian Academy, High Point, NC
Kathie's Note: The challenge of this work was to cover Moses' 120 lifespan in a 40 minute musical. But God provided seven great songs that detail his birth to death interspersed with three clever jingles that flesh out additional Bible facts. Combined with the creative characters and their dialogue, the work has application to everyone's life. (If your children have not learned their ten commandments, you should do this musical just for the song, "The Perfect Ten"!)
Song Titles:
Trading Places Theme (Opener)
Holy Moses!
The Basket Case
Egyptian Brick Jingle
I AM
A plague of Plagues
Passover Pita Jingle
No One Compares to You
Almighty Manna Mix Jingle
The Perfect Ten
When My Heart Turns to Him
I Am Bound for the Promised Land
Holy Moses! (Reprise)
Trading Places Theme (Bumper)
Song
Samples
Clipart
Files
Watch
Video