MK Christmas Special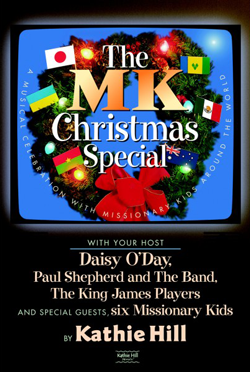 Includes Digital Products
Christmas All Over the World
It's Christmas All Over the World as talk show host Daisy O'Day presents The MK Christmas Special. Accompanied by Paul Shepherd and The Band, Daisy celebrates The Gift of Christmas—Emanuel. Then, in interviews with six missionary kids, we learn that in West Africa, Jesus is called the Lion of Judah, in Ukraine, He is The Open Door, and in Australia the Good Shepherd makes Christmas a very G'Day! As each MK tells about their country and its Christmas customs, we learn Christ is The Living Water in the Caribbean, the King of Kings in Japan, and in Mexico, he is Jesu Christo— The Bread of Life. Daisy ends the show reminding us that Jesus is the Prince of Peace for a troubled world in Silent Night with Dona Nobis Pacem and challenges us to Tell the Story of Jesus' love every day. By the end of the Finale, the Christmas story, the names of Christ, and the importance of missions have new meaning to everyone who is a part of The MK Christmas Special!
Speaking parts:
15-30, with optional adult parts
Set:
talk show set-up, decorated for Christmas
Costumes:
Christmas clothes and simple biblical costumes or props
Video options:
Instructional / Movement DVD includes six foreign missions videos
Performance Time:
50 minutes (options are included for shorter performance times)
Love, Love, Love the songs from this musical which were exactly what I needed for a multi-cultural Christmas program! The arrangement of "Silent Night with Dona Nobis Pacem" is probably my favorite. It's a challenge to teach the 3 parts but so worth it.
Lori Smith — Emmanuel Faith Community Church, Escondido, CA
Kathie's Note: The amount of missions info in the DAV and the video clips to be used in performance are astounding. You can tailor this work to feature your own missionaries or do the songs in concert setting –turning this theatrical musical into a very simple production. I love "Lion of Judah", "The Open Door" ,"Jesu Christo" and choirs should sing "Silent Night with Dona Nobis Pacem" EVERY Christmas!
Song Titles:
Joy To The Lord!
It's Christmas All Over The World
The Gift of Christmas Emmanuel
Lion Of Judah
The Open Door
G Day!
The Living Water
King of Kings
Jesu Christo
Silent Night! With Dona Nobis Pacem
Tell the Story
Clipart
Files
Song
Samples
Watch
Video
Choral book stock fluctuates - contact us before placing time-sensitive orders.