Copycats of the King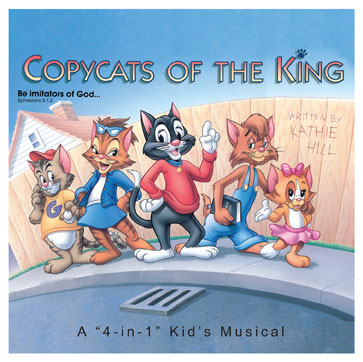 Includes Digital Products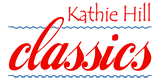 A "4-in-1" Kid's Musical for Imitators of Christ
Released in 1984, Copycats of the King was a highly successful Sparrow children's recording, but was never available in printed form until now when Kathie Hill Music obtained permission to offer this classic for performance as a full musical or four "mini-musicals." Each of the 4 stories can be performed individually or in combinations of 2, 3 or all 4, making this work perfect for shorter performances, chapel services or missions outreach with songs especially accessible for younger children with kids, teens, adults or puppets performing the speaking parts. So lead your kids to live out Ephesians 5:12 and be Copycats of the King! Listen to SONG SAMPLES below & download a FREE Coloring Sheet!
Ages:
Kindergarten – 3rd Grade (and up)
Set:
Bare stage with simple SL and/or SR settings for each story
Costumes:
Street clothes with cat make-up, ears, tails and gloves
Music:
Easy with styles ranging from Celtic to Southern Gospel to rap
Drama:
5 copycat characters, played by kids, teens, adults or puppets
Speaking Parts:
3-5 copycats in most stories w/ 1-5 additional characters in ind. stories
Solos:
2-3 solos in each story, performed by characters or other children
Performance Time:
"The Copycats Meet Growlbert," "Cali's Big Problem," "Kitty O'Bey," and "B.C. Paws" are each approx. 15 minutes long
Growing up, our little church library had "Copycats of the King" and I absolutely loved it. The loan card for that cassette had my name on it so much, it was ridiculous. I really appreciate the way Kathie presents such important messages in fun and moving ways that everyone can understand.
Lynne Dobson — Tasmania, Australia
I grew up listening to the Copycats and to this day I remember every song. The lessons are practical and real yet easy to understand and learn. I was so excited I found it because I LOVED IT and i am buying for my niece and nephew so they can fall in love with it too!
June Pyron — College Park, GA
Song Titles:
The Copycats Meet Growlbert: Copycats of the King * Growlbert • Fill Your Tank with Thanks • Little Ways • Cali's Big Problem: Copycats of the King Actions Speak Louder Than Words • Lookin' Up • Kitty O'Bey: Copycats of the King * Kitty O'Bey • Mother May I? • Honor (Your Father and Mother) "B.C. Paws": Copycats of the King * Love the Lord • Have You Got Him in Your Heart? • The King of Me
LISTEN TO SAMPLES

Kathie's Note: When this project released, people loved it so much that Sparrow had to create a hand-written script and score for all the churches who wanted to perform the stories. KHM has had that transcription professionally engraved, the recording transferred to CD and a offers a complimentary color sheet. Note that the discounted Peformance DVD contains just the videos we produced in the '80's "The Copycats Meet Growlbert" and "B.C. Paws".
Coloring
Sheet
Watch
Video