Little Drummer Boy - WAM! 4 Kids 4 Christmas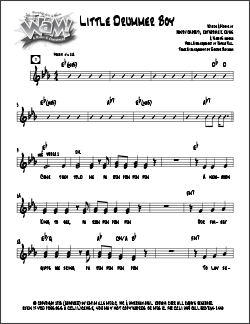 Involve more kids in worship & music with WAM!
"The Mile High Orchestra's version of this classic inspired the whole project," says Kathie Hill. "The intro alone yelled 'kids will love this!'" With glitter drum stick choreography, a trap set solo and call and response for kids & drums "LDB" offers a convergence of the worship arts. Our finest gifts we bring - pa rum pum pum pum!
WAM! 4 Kids 4 Christmas features seven songs to present individually in a service or collectively in a concert or family worship time. Several songs feature arrangements by Denver Bierman and Kathie Hill, with orchestral tracks by Denver Bierman & the Mile High Orchestra's exceptional percussionists, brass, woodwind, keyboard players. A choice of narrations, script and skit are included in the 7 song Vocal Chart download.
Voicing:
Unison/2 part (drummer/s)
Activities List
ART:
Glitter Drum Sticks 1 & 2
DANCE:
Large Group Choreography
INSTRUMENTS:
Drum Making & Playing 1 & 2
MEDIA:
Worship Celebration Audio/Visuals
VOCAL:
Open Up and Say "Ah"
MUSIC:
Large Group Rehearsal Guide
LISTEN TO A SAMPLE
3 Ways to Save Time & MONEY!
Digital licenses = NO SHIPPING COSTS & IMMEDIATE DELIVERY.
One 5x license allows you MAKE UP TO 5 COPIES FOR PLANNING PURPOSES, then buy additional licenses after you know enrollment.
You'll NEVER PAY TO REPLACE AN ACCOMPANIMENT CD AGAIN! With your 3x Trax license you can have a file on your computer , IPOD or burned to CD for up to three leaders!

Watch
Video