I Am A Promise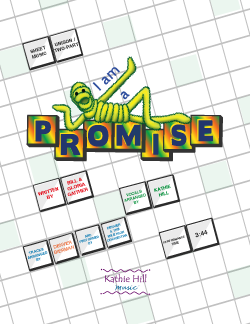 The Gaither song w/new tracks & live-action video features the Prommets. These craft stem characters will introduce your kids to the song in a fun way then provide video to accompany their presentation! All products are digital, so order today and sing tonight - and make your own Prommet using the free instructions below!
Voicing:
Unison/2 part with 1 solo & 4 speakers
We saw this previewed at a conference in Dallas, and all of our directors unanimously wanted to make this the finale to our spring concert! Parents that remembered this song from when they were in choir and the kids LOVED it.
Lisa Erwin — Denton Bible Church, Denton, TX
It's a great arrangement that the kids had fun learning and the adults had fun hearing. The video was a HUGE bonus that added extra visual appeal to a favorite classic children's song. This is the kind of stuff that keeps kids and workers excited about children's choir!
Troy Cates — FBC, Porter, TX
Demo video (4:08) is identical to promo video above without watermark and upper left title.
Performance video (3:44) Prommet video only w/o audio, titles and credits to be played as kids sing with CD Trax or live accompaniment.
Kathie's Note: I loved Denver's new arrangement on his "Groovy" CD so I created a kid's arrangement with a video to illustrate the Gaither's great song. Introduce the song to your choir, VBS or kid's worship with the DEMO Video, then sing to the Performance Video & Accompaniment CD for a multi-media production your audience will never forget!

Prommet
Construction
Guide