The ROCK that Rolled the Stone - WAM! 4 Kids 4 the Word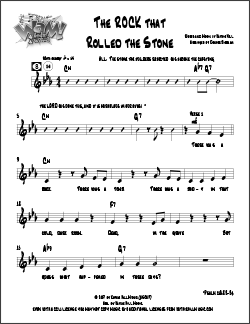 The crucifixion in John 19 leads to a "rock" resurrection as Jesus removes the stone to escape the grave! "The ROCK That Rolled the Stone" expresses joy and hope with a rollicking hand-jive to this new song by Kathie Hill. Worship activities help kids explore Jesus as the "rock of our salvation," "the capstone," and "cornerstone" of our faith through scripture memorization and art projects.
Voicing:
Unison/2 part (1 solo)
LISTEN TO A SAMPLE
3 Ways to Save Time & MONEY!
Digital licenses = NO SHIPPING COSTS & IMMEDIATE DELIVERY.
One 5x license allows you MAKE UP TO 5 COPIES FOR PLANNING PURPOSES, then buy additional licenses after you know enrollment.
You'll NEVER PAY TO REPLACE AN ACCOMPANIMENT CD AGAIN! With your 3x Trax license you can have a file on your computer , IPOD or burned to CD for up to three leaders!