He's Not Here with Lord, I Lift Your Name on High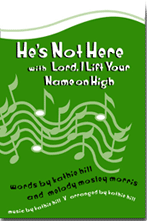 Includes Digital Products
"He's Not Here with Lord I Lift Your Name on High"
Words by Kathie Hill and Melody Mosley Morris
This arrangement of an original Easter song by Kathie Hill and a classic praise chorus is the perfect choice for a kid's Easter special. First released as a song in the in Fish Tales "Good Fish for Easter Day" we are glad to offer the same arrangement and tracks in a separate octavo.
Voicing: 2 part/Unison
Length: Approx 3:18


What better way to begin an Easter service than with a choir of kids singing this medley! Our kids and congregation were launched into a worshipful celebration of Christ's resurrection with these songs.
Jeff Bourque, Grace Community Church, Brentwood, TN

Kathie uses a classic praise chorus to culminate the Easter story. Kids get to sing the story and share the joyous resurrection with music and movement!
Tamre Bennett, Anatasia Baptist, St. Augustine, FL
LISTEN TO A SAMPLE

Kathie's Note: This is a great arrangement that can be learned quickly and sung impressively. Kids will love the upbeat tracks.