WAM! 4 Kids 4 the Word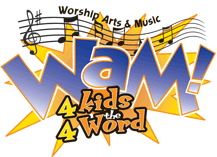 Involve more kids in worship & music with WAM!
WAM! 4 Kids 4 the Word is the 2nd of Worship Arts and Music resources from Kathie Hill Music. With tracks by Denver Bierman and the Mile High Orchestra, WAM! 4 Kids 4 the Word features seven songs to present separately or collectively in a Worship Arts Celebration. An optional script provides narrations that follow the life of Christ according to the book of John, ending with the triumphal entry, crucifixion and resurrection making this a perfect presentation for the Easter season. Narrations are performed on the Listening CD. (The script is included with the bundled 7 song set of Vocal Charts only. Narrations are numbered by song with a minimum of 4 and maximum of 20 narrators.)

To involve more kids in your program, WAM! 4 Kids 4 the Word offers a curriculum of activities with one WAM! Session per song for each of 7 worship arts: ART, DANCE, DRAMA, INSTRUMENTS, MEDIA, & VOCALS plus Rehearsal Guides for the large group MUSIC WAM! Sessions. (For more info, download the WAM! 4 Kids Tutorial.) Activities are grouped by song and by worship art.
You can also combine your live presentation with edited footage from the theatrical film, The Gospel of John, included in the Demonstration Videos which can be used during your presentation of WAM! 4 Kids 4 the Word songs.
This is your value pack. If you want to go ahead and get all seven songs and save some money select the specific media formats that meet your needs, entering quantities for those which are licensed purchases, and checkout.
We used this for a week long Summer Music and Arts Camp. We loved seeing the children use such a variety of gifts as an act of worship! The songs are fun, catchy and full of truth. The activities gave loads of detailed instructions yet we were able to be customized to the specific talents and needs of our group. Loved it!
Keith Watson — First Baptist Columbia, SC
Our 5-6th kids have had an awesome time not only with the music but with the drama and activities - the participation was excellent. I enjoy having all that I need in one package, i.e. activities, drama, etc. and the download is simple and a time saver.
David Padgett — New Hope First Baptist Church, Cedar Park TX
DOWNLOAD EASE!! I want to let everyone know how easy the downloading is for this product. This was great for my summer Music camp, as I only had to download what I needed! Thanks Kathie!
Conya Hartman — DeLand, FL
Song Titles:
The Word of God
The Real Deal (1 solo)
I Know That I Know
All to You (1 solo)
Glory Forever(1 solo & narration)
The ROCK That Rolled the Stone (1 solo)
The Solid Rock (2 solos)
3 Ways to Save Time & MONEY!
Digital licenses = NO SHIPPING COSTS & IMMEDIATE DELIVERY.
One 5x license allows you MAKE UP TO 5 COPIES FOR PLANNING PURPOSES, then buy additional licenses after you know enrollment.
You'll NEVER PAY TO REPLACE AN ACCOMPANIMENT CD AGAIN! With your 3x Trax license you can have a file on your computer , IPOD or burned to CD for up to three leaders!
T-shirts
Available
Activities
Tutorial
Song
Samples