Preschool Tri-song Samplers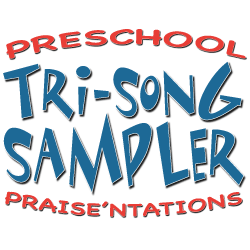 Each Preschool Praise'ntations Tri-Song Sampler includes a grouping of three songs in a digital Kid's Listening CD and Split Track Accompaniment (MP3) plus a Lyric Sheet with movements (PDF) for only $9.99.
Each digital license allows you to make 1 copy of the listening CD, split track accompaniment and lyric sheet. Hear "sampler samples" below then purchase and download your Preschool Praise'ntations Tri-Song Samplers for age-appropriate themed songs for 3's, 4's and 5's to learn and share.
Note: To make additional copies of the 3 songs for your preschool families, please purchase an additional $9.99 license for every 10 Listening CDs made.
Our Preschool sang the three Newest Tri-Song Samplers at Christmas and we received many, many comments on how cute and original the songs were. I pray you will continue to create these! They are just enough words for the children to memorize, they are fun and most important CHRIST CENTERED!!!
Dana Petry — Columbia Station, Ohio
We used (New Christmas) for our Cantata this year. Every three years I put together a program in which ALL our music groups share in one program. What a perfect resource your Tri-Song Samplers was for our little ones. The preschoolers got a standing ovation after each song. Thank you so much for sharing your gifts.
Roxanne Nanney — First Baptist, Brandenburg, KY
Love the option of being able to get (the songs) immediately! I was asked last night to prepare something for Christmas for our children's programs with only 3 weeks to go so these short and simple songs were perfect. All I can say is Thank you, Thank you, Thank you!
Tracy Whiteside — Lawrenceville, GA
Check where these great songs originated in
Preschool Praise'nations
!