Christmas Family Tree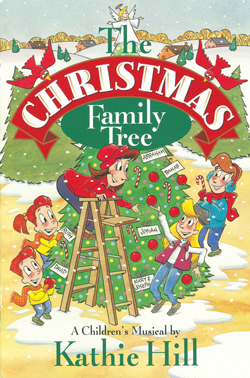 The Christmases (Merry, Holly, Jolly and Whitey Christmas) are having their annual family tree trimming party for all the Christmas cousins. When they invite their neighbor, Abbie Adams to join the fun, the Christmas family shares Jesus' family tree from Matthew, Chapter One. Through this geneology, Abbie Adams learns of Rahab's bravery, Ruth's loyalty, David's repentance, Josiah's wisdom and Mary and Joseph's obedience. But most importantly, she learns that she, too, can be adopted into the Christmas Family Tree of faith.

Speaking parts:
minimum of 7 with optional adult parts
Set:
outdoor or indoor setting with large Christmas tree as focal point
Costumes:
winter clothes or Christmas clothes
Performance Time:
Approximately 38 Minutes
If you want a program centered around family and Biblical families this is the musical you want in your music library.
Lori Smith — Emmanuel Faith Community Church, Escondido, CA
Kathie's Note: This is a sweet musical that is easy to stage and has a wide variety of musical styles. The adoption "surprise" is especially meaningful and the study of the Old Testament members of Jesus' genealogy leads beautifully into a salvation message with "Everyone, Everywhere Come" as one of my favorite invitation songs.
Titles include:
Merry Christmas!
The Christmas Family Tree Medley
F.A.I.T.H.
The Battle of Jericho Revisited
True to You
Once in Royal David's City
Wholly His
Away in a Manger
Everyone, Everywhere, Come
Christmas Family Tree Reprise

Song
Samples