★ Christmas In Egypt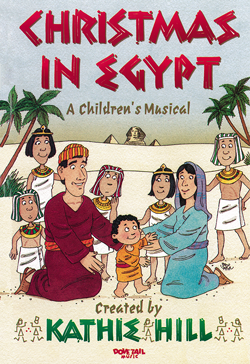 Includes Digital Products
Using the flight to Egypt as the historical background, Kathie Hill creates a story of the possible relationship Mary, Joseph and the Christ-child might have had with their Egyptian neighbors. As Joseph relates the story of Jesus' birth, even the most unbelieving adult learns to see Christmas through the eyes of a child. Production helps include Performance Notes and Stage Diagram in the back of the Choral Books.
Speaking parts:
minimum of 9 with one toddler part and optional adult parts
Set:
Egyptian setting – four scenes with moveable props
Costumes:
Egyptian clothing and biblical clothing
Performance time:
Approximately 38 mintues
Kathie's Note: A different, but creative approach to the Christmas story. The "what if" premise serves to give children a glimpse into Jesus' life beyond the manger and the use of a toddler on stage –really sets this work apart. The kids love wearing the Egyptian garb and the Pharoah, Herald and Belles of the Nile are hysterical. This is one of my favorite musicals…so funny, yet so tender.
Titles Include
Christmas in Egypt
A Godsend
You're Not from Here
Prince of Peace
Birthday!
The Christmas Story in Song
Pharaoh, Pharaoh
YES!
Like a Child
Finale

Song
Samples