★ Christmas In Reverse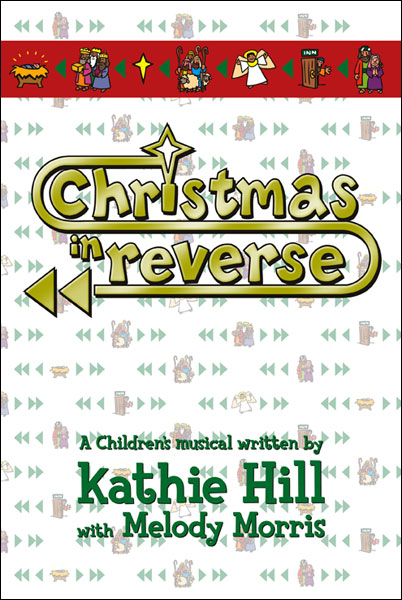 Includes Digital Products
2006 Dove Award Nominee
Best Children's/Youth Musical
A Children's Musical
Kathie Hill has done Christmas fore-wards and now, backwards! Instead of ending with the nativity, Christmas in Reverse starts at the manger then "rewinds" to give details on the events leading to the first Christmas. Teaming with co-writer, Melody Morris, Kathie provides a plethora of orchestral settings for this Broadway-styled musical. And long before the characters gather back at the manger, you will be touched (for the first or umpteenth time) by God's reason for sending Jesus in songs like, You Chose Me, Waiting for Christmas and Come and Worship Jesus. So if you think you've chosen your musical for this year, it's time to "rewind" and take a look at Christmas in Reverse.
Set:
present day stage or sanctuary
Costumes:
Optional nativity costumes and Christmas in Reverse shirts
Music:
Easy to challenging
Drama:
Simple narrations – can be read or memorized, simple to no stage action
Speaking Parts:
minimum 5 children / 3 - 4 Adults or children
Video options:
Instructional/Movement DVD includes accompaniment video for "Come and Worship Jesus"
Performance Time:
35 minutes
We used "Christmas in Reverse" with our 16 member children's choir and our congregation was delighted with the clear Gospel message! Adding middle school narrators, teens for Mary and Joseph, young adults as Adam & Eve and senior adult wise men made this such an accessible musical. Thanks!
Pat Young — FBC Blue Ridge, GA
Kathie's Note:This musical will surprise you. It seems so simple, but the impact is so great. People loves the emphasis on the manger and the fact that it is "Christmasy" from beginning to end. If you're looking for a change from a theatrical musical, this work is for you. "Come and Worship Jesus" should be in every hymn book!
Titles Include:
It Came to Pass
Christmas in Reverse
Christmas in Reverse (reprise)
Eden Music (Peer Gynt Suite No. 1, Opus 46: Morning Mood)
He Told You So!
Waiting for Christmas with Come, Thou Long Expected Jesus
You Chose Me
While Shepherds Watched Their Flocks with Angels We Have Heard on High
Vobis Hdie Salvator (A Savior Is Born for You)
Come and Worship Jesus
Silent Night! Holy Night! (additional lyrics by Kathie Hill)
Shout Out Emmanuel! (reprise)
Apple
Tree
Directions
Download
DAV Pages
Download
Clipart
Song
Samples
Watch
Video
T-Shirts
Available