Don't Be Afraid Brigade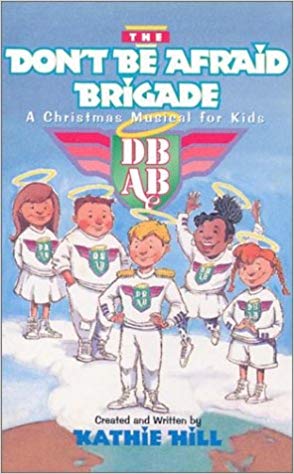 Includes Digital Products
Christmas
In this CHRISTMAS classic, while the members of The Don't Be Afraid Brigade are busy practicing for their big announcement of Messiah's birth, the earthlings below are refusing to trust their Heavenly Father. Knowing they have extra work to do, the little band of angels tries to encourage the people to keep believing in God and not be afraid. But are the DBAB themselves ready for the birth and what it means? Find out.
Speaking parts:
minimum of 5
Costumes:
white sweats with DBAB logo
Performance time:
Approximately 35 minutes
The "fear not" message is packaged in a simple script and the music so well written. The brigade of hip angels were easy to costume in a hip fashion.
Lori Smith — Emmanuel Faith Community Church, Escondido, CA
Kathie's Note: This is a very simple musical to produce, but one that involves complex issues of faith. I love the way "Three in One" explains the Trinity, "The King of Glory" introduces God's majesty and "Take Your Throne" is the perfect song for salvation and commitment. If you're looking for a way to present the Christmas in colors other than red and green…check this one out!
Song Titles:
Hearse and Rehearse • Never a Rest!/Have Faith in God • The King of Glory • Fear... NOT! • Perfect Love • Three in One • The Host with the Most Wonderful News • A Most Excellent Gloria • Take Your Throne • The DBAB Christmas Medley

Song Samples