★ Operation Christmas Child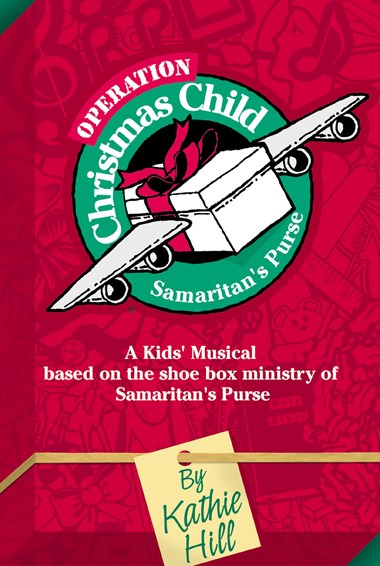 Includes Digital Products
2002 Dove Award Nominee
Best Children's/Youth Musical
Best Children's Recording
A Kids Musical based on the shoe box ministry of Samaritan's Purse
Spend your Christmas at Fort Faithful with peace-keeping troops led by Sergeant Smarter with Private Eye, Private Elvis Presby, and Private Gomer Smyle as Unit 12-25 embarks on a mission called Operation Christmas Child. But just who is this "Christmas Child" and what's inside the many gifts they must deliver?
Written to promote the "shoe box ministry" of the Christian relief organization, Samaritan's Purse, Operation Christmas Child is an inter-active musical experience to involve your boys and girls in this worldwide child outreach. Veteran children's writer, Kathie Hill, has created a humorous, yet touching scenario to emphasize the gift of Jesus' birth and the motive for sharing our blessings with others. Incorporated into the story line and included in the Director's Aide and Video is a message from Samaritan's Purse president, Franklin Graham, along with footage of children across the globe receiving their Christmas shoe boxes. These images, combined with songs like "Christmas Started With a Present," "First John 3:16" and "Simple Things" will highlight the needs of others while the characters in Operation Christmas Child will touch your congregation's funny bone and challenge everyone to participate in this vital ministry.
Speaking Parts:
9 characters, plus several narrations
Solos:
minimum of 10 solos
Set:
For Faithful, home of Special Forces Unit 12-25
Costumes:
camo shirts and black pants
Video options:
Instructional/Movement Video includes shoe box ministry promo video for use in performance
Performance Time:
45 minutes
Kathie's Note: This musical is the perfect way to start or augment an Operation Christmas Child shoebox collection. The script is filled with humor and boys love the military setting. The work has high production value and great songs like "Lots and Lots of Boxes' and "Simple Things." 'Come and Worship Jesus." will bring you to tears!
Song Titles:
Operation Christmas Child
Lots 'n Lots 'o Boxes
Christmas Started with a Present
The Story of the Christmas Child includes What Child is This?
While Shepherds Watched Their Flocks By Night
First John 3:16
We're Blessed to Bless Again
Simple Things
I Will Worship You
Operation Christmas Child
Choral book stock fluctuates - contact us before placing time-sensitive orders.