WAM! 4 Kids 4 Christmas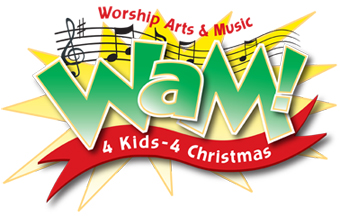 Songs 1-7 in digital downloads to involve more kids in worship arts and music.
WAM! 4 Kids 4 Christmas is the first in a special series of Worship Arts & Music resources from Kathie Hill Music and features seven songs to present individually or collectively in a Worship Arts Celebration or with an optional free simple musical script, plus all companion products including written activities for seven areas of the worship arts. To involve more kids in your program, WAM! 4 Kids 4 Christmas offers a curriculum of activities with one WAM! Session per song for each of 7 worship arts: ART, DANCE, DRAMA, INSTRUMENTS, MEDIA, & VOCALS plus Rehearsal Guides for the large group MUSIC WAM! Sessions. (For more info, download the WAM! 4 Kids Tutorial.) Activities are grouped by song and by worship art. (View Activity List and Sample Activity)
This is your value pack. If you want to go ahead and get all seven songs and save some money select the specific media formats that meet your needs, entering quantities for those which are licensed purchases, and checkout.
Set:
opt. radio station, TV station or remote broadcast from your church/school
Costumes:
Street clothes or WAM! 4 Kids Tee Shirts
Music:
Varied styles from rap to big band to "Nawlin's" to gospel - with great orchestrations
Speaking Parts:
from 3 - 15 depending on use of script and/or Drama option/s chosen
Performance Time:
30 - 45 min. depending on drama options included
Song Titles:
King of Glory, King of Love
Children, Go Where I Send
Jesus Child
Tell Me the Story
Little Drummer Boy
We Worship You
Today
3 Ways to Save Time & MONEY!
Digital licenses = NO SHIPPING COSTS & IMMEDIATE DELIVERY.
One 5x license allows you MAKE UP TO 5 COPIES FOR PLANNING PURPOSES, then buy additional licenses after you know enrollment.
You'll NEVER PAY TO REPLACE AN ACCOMPANIMENT CD AGAIN! With your 3x Trax license you can have a file on your computer , IPOD or burned to CD for up to three leaders!
Activities
List
Sample
Activity
Tutorial
Song
Samples
Watch
Video