Best of Kathie Hill's All-Year-Long Songs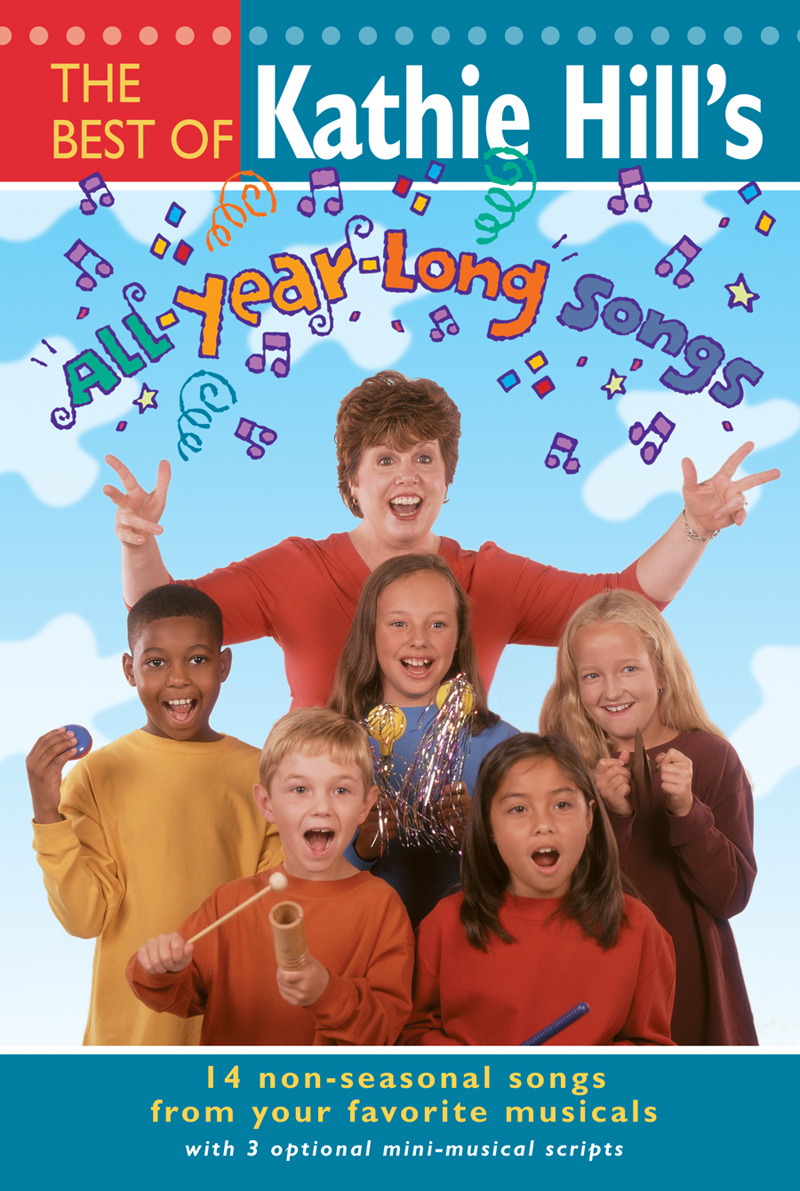 Includes Digital Products
14 Non-Seasonal Songs from Your Favorite Musicals with 3 optional mini-musical scripts
Kathie Hill presents 14 of her best non-seasonal songs in The Best of Kathie Hill's All-Year-Long Songs. This collection includes a tempting variety of styles, difficulty levels and themes that makes this collection perfect for worship leading "between" musicals. Kids will sink their teeth into the blend of contemporary songs, hymn arrangements and worship choruses and teachers will devour the free downloadable teaching activities available by clicking the PDF icon below. Included in each choral book are three optional scripts which combine songs from the collection to create mini-musicals on God's faithfulness, the character and names of Jesus, and the life changing power of Christ.
Drama:
3 Scripts include dialogue and narrations for up to 6 children/adults
These mini-presentations are perfect for our format. Even the youngest choir member can stand up for 15 minutes to perform for mom & dad. Thanks so much for all of the prep work & hints that come with the packages. Keep it up. My kids thrive on this type of music!
Melissa Benson — Westland Baptist Church, Katy, TX
---
My mom used to play them for me to listen and go to sleep to during the night...only problem was, I loved them so much, I would stay wide awake softly singing along and would not go to sleep! I never understood how Mom expected me to fall asleep while such catchy music was playing. I didn't want to miss anything!
I absolutely love that the songs are filled with such profound biblical truths and based on scripture. It is difficult to find meaningful children's songs these days, and your music is such a blessing. I am excited for my kiddos to learn the truths presented in your music and greater love Jesus at such a young age through singing your songs. I know your music will be a huge blessing to them just as it was to me!
Rachel Ambat
Kathie's note: This is a great resource for individual songs for kid's choirs, ensembles or soloists. And the three optional scripts ("Strong Songs for Tough Times," Strong Songs for a Super Savior," and "Strong Songs for Daring Disciples") group sets of 4 and 5 songs into short, clever scripts to create three easy-to-produce mini-musicals. These create perfect opportunities for the smaller choir to have material for choir year kick-offs, spring or fall productions, summer music camps or for use ALL YEAR LONG!
Song Titles:
God Is in Control
The Eleventh Hour
Precious Lord, Take My Hand with Lead Me On Follow Medley (I Have Decided to Follow Jesus with Where He Leads Me and He Leadeth Me)
The Sign of Christ
He's the Best!
Lion of Judah
Jesu Christo
I AM
A Brand New Me
Be Careful Little Eyes with Input Output
Tame Your Tongue
The Cross Crosses Out My Sin
The Perfect Ten
Download
Teaching
Activities
Download
Clipart
Song
Samples