Volume 4 (Red)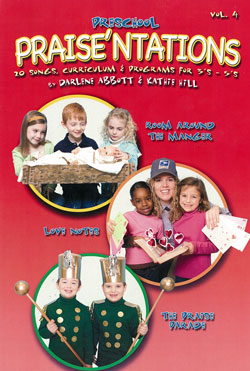 Includes Digital Products
Includes Christmas
A Year's Curriculum in Three Affordable Resources
"Room Around the Manger" tells the traditional Christmas story from the perspective of the people who can tell the most about the Savior's birth: a market vendor in Nazareth, the innkeeper in Bethlehem and Mary and Joseph in the stable where God provides room for everyone around Jesus' manger.
"Love Notes" can be a Valentine or "anytime" celebration of God's love expressed through the Bible. Children learn that each verse is a "little love note" to help us understand God's love for us, and express our love for Him and for others. "The Praise Parade" is a high-energy celebration encouraging children to use their bodies, voices and instruments to praise the Lord from morning 'til night.
Thank you for continuing to provide the very best in preschool music and lessons. The songs are great and the lesson plans are so easy to use. I have used all 3 of your previous volumes with my preschool choirs and can't wait to use Volume 4 this fall!
Donna Carole Kitchens — East Cooper Baptist, Mt. Pleasant, SC
I am so excited about your great stuff for Preschoolers. I purchased a Kid's CD for all 4 volumes at a conference last fall. I just received my Vol. 4 Teacher's Book and love it. So glad that you have come up with such fantastic stuff to teach the little ones how to praise our Lord through song.
Teresa Edwards — Lexington Baptist, Lexington, SC
Kathie's Note: A special feature of Vol. 4 - RED are demonstrations of all movements written out in the lesson plans and performed on the "Movement Videos" link below.
Titles include:
Room Around the Manger
On a Donkey's Back
To Bethlehem
Wherever I Go, God Goes
1, 2, 3 People….
No Room!
All I Have
A Quiet Lullaby
Away in a Manger
Room Around the Manger
Love Notes
Little Love Notes
Sweet 'n' Wonderful
Jesus Loves the Little Children
Oh, How I Love Jesus with Jesus Loves Me
Love, Love, Love the Lord
Love One Another
The Praise Parade
Get Ready to Praise the Lord
This is the Day
Let's Count the Ways We Can Praise
Psalm 113:3
The Praise Parade
LISTEN TO SAMPLE SONGS
A Word
from the
Publisher
Example
Lesson Plan
Praise'senting
Preschool
Praise'ntations
Sample Table
Time Activity
Love
Notes
Movement
Videos
Room Around
the Manager
Movement
Videos
The
Praise Parade
Movement
Videos